By Steve Nestor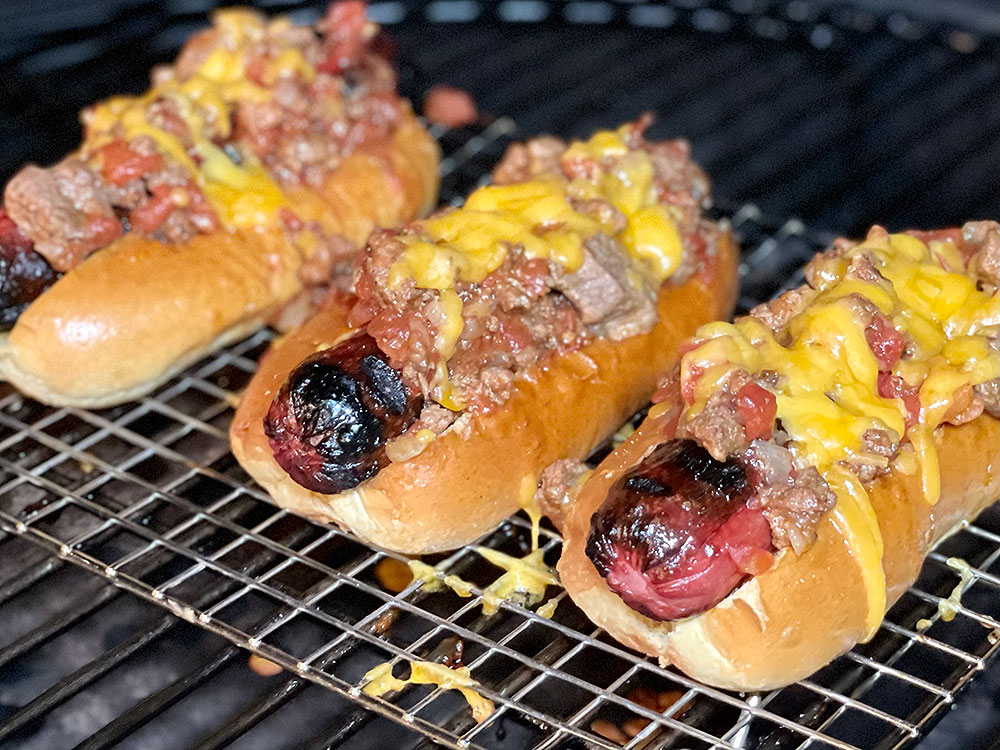 Did you know February 23rd is National Chili Day? Chili is a dish that brings people together, but there will be high-spirited debate on the best way to make chili. How you make chili is often influenced by where you live or grew up. Beans or no beans? Served simply in a bowl, or over pasta, or on a hotdog?
The Chili Dog – A Little History
Just like chili, the chili dog has regional variations. The traditional chili dog is served in a bun topped with meat chili or chili con carne and cheese. And then there is the Coney dog, a European-style frankfurter topped with a meat sauce, onions, and mustard.
There are several people and regions that claim to have invented the chili dog. Art Elkind (Los Angeles) claims to have invented the "Texas-style" chili dog in 1939. George Todoroff (Michigan) founded the Jackson Coney Island restaurant in 1914 and created his famous recipe for Coney Island Chili Sauce.
Coney Island-style restaurants, popular in the northern United States, are named after the Coney Island hot dog. Bill and Gust Keros of the American and Lafayette Coney Island restaurants in Detroit reportedly created their first coney dog in 1910. In Ohio, Thomas Kiradjieff claims to have invented the Cincinnati cheese-covered coney island dog in 1922. Regardless of who has the rights to the first hot dog with chili or meat sauce on top, the dogs have not gone away.
I must confess I have never eaten a chili dog! So here is my first attempt at making chili dogs.
Grilling Chili Dogs
I want to thank the Holy Grail Steak Company for sending me their American Wagyu chili dog pack to create my chili dog. It included eight American Wagyu beef hot dogs, two pounds of Tajima American Wagyu ground beef, and one package of Santa Carota-finished filet mignon tips. I anticipated the combination of tender and sweet Carota-finished filet tips and the marbled Wagyu ground beef would take my chili to new a level.
Holy Grail Steaks Offer!

Receive 20% off Coupon Code: BBQBIBLE20
There is a base chili recipe that I follow, but sometimes I modify it and adjust the heat (spiciness) depending on whom I'm serving. I usually add beans to my chili, but felt beans might be too much on top of the hot dog. I also didn't want the beans to distract from the tender and flavorful meat in the chili.
I started by browning the ground beef in a skillet, then drained it on a paper towel. While the ground meat browned, I seasoned it with some of my homemade chili rub: It consists of kosher salt, black pepper, smoked paprika, ancho chili powder, cayenne, cumin, and coriander.
Next, I sliced the filet tip into smaller pieces to make them easier to eat and fit on top of the hot dog. The filet tips were quickly browned. I sweated two diced onions in a cast iron pot and seasoned them with additional chili rub.
I returned the ground beef and the filet tips to the pot, then added three cans (14.5 ounces each) of diced tomatoes. From one can of chipotle chilis in adobo, I add three tablespoons of the adobo sauce as well as four chiles, seeded and roughly chopped.
To give a smoky aroma to the chili, I moved the cast iron pot to my Big Green Egg XL (BGE) to simmer for the 2 to 3 hours.
I grilled the hot dogs, placed them in the buttered and toasted buns, and topped them with the chili. I topped each chili dog with cheddar cheese and then placed them back in the BGE to melt the cheese.
The Results
The hot dogs had the snap I enjoy when I bite into a hot dog. The hot dog had a nice beefy flavor. The chili had some heat, a smoky aroma, and was not overpowering. The filet tips were tender, and due to their size, they added a different texture to the chili compared to the ground beef.
The buns were crisp and buttery. The cheese was creamy and helped to hold everything together.
I'm feeling like my first chili dog was a success. How will you take your next chili dog to the next level?
Recipes for Hot Dogs
Also Read:
Head over to the BBQ500 club on Facebook. We have an amazing community!

Also, sign up for our Up in Smoke newsletter so you don't miss any blogs and receive some special offers! PLUS get Raichlen's Burgers! PDF for free!

Follow Steven on Facebook, Twitter, Reddit, Instagram, and TikTok!