By Nancy Loseke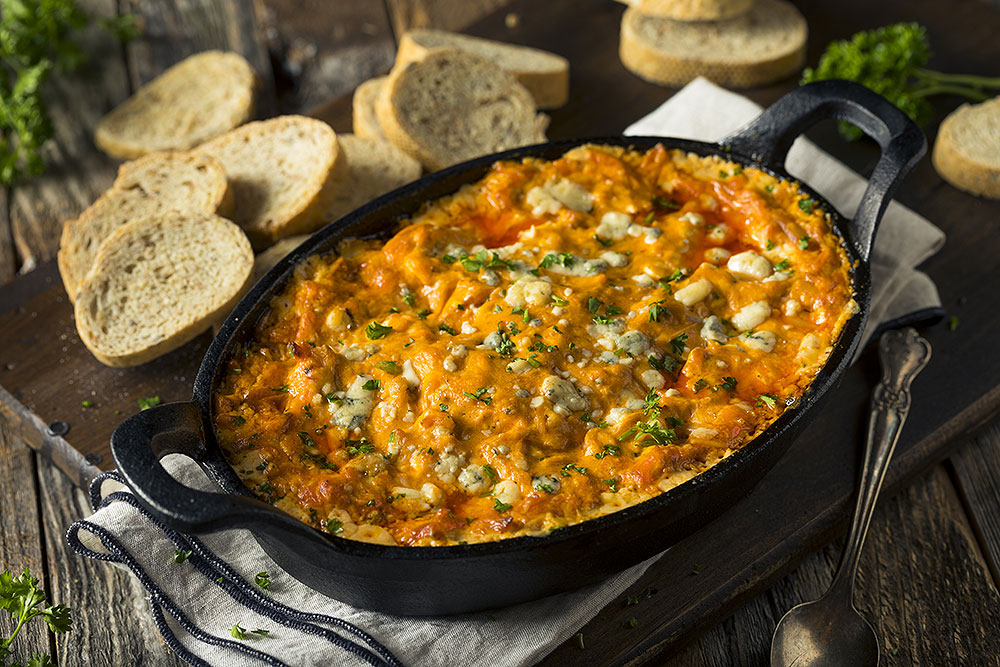 Despite significantly higher prices, Americans are projected to eat a whopping 1.42 billion chicken wings on Super Bowl Sunday. If they can find them at their local supermarket. Yes—once again—a shortage of the humble cut made famous in 1964 by Teressa Bellissimo at Buffalo's Anchor Bar is predicted for consumers in advance of Super Bowl LVI. Restaurants, says the National Retail Federation, began hoarding wings as early as last summer.
But this past week, we improvised an "end run" around this perennial problem. Yes, we developed a smoke-enhanced recipe that lusciously combines two flavors from our favorite Super Bowl party snacks: Buffalo-style chicken and cheesy dips. It's a chunky and substantial dip, requiring sturdy dippers like celery sticks (traditional with Buffalo-style preparations), crackers, or grilled bread rounds.
And you likely have most of what you need in your pantry or 'frig. If you don't have fresh poblanos, for example, substitute a couple of diced jalapeños or chop up a few slices of pickled ones. Otherwise, you'll get nice heat from the hot sauce alone. Frank's RedHot is traditional, but any Louisiana-style hot sauce will do. Korean gochujang could even be good. Drizzle the top with ranch dressing if you don't have sour cream. Or top with fresh chopped cilantro. This summer, I intend to make this dip with fresh corn—grilled, of course.
We'd love to hear about any modifications you make to this recipe!
In the meantime, here are a few other Super Bowl- or tailgate-worthy dip recipes.
Do you have a favorite dip you make on the grill? Let us know on Facebook, Twitter, Reddit, or Instagram!