By Steven Raichlen
The holidays are coming. What will you grill to delight your family and wow your friends?
Prime rib? Been there. (It never fails to impress.) Whole beef tenderloin? Done that. (It certainly shows you to be the magnanimous grill master you always are.)
As for me, this year, I'm spit-roasting a whole rack of veal from D'Artagnan. You can see the recipe that I developed below.
Rotisserie Rack Of Veal
Veal? You could call it the other 'other white meat,' and its majestic appearance and delicate, refined flavor definitely belong on your grill—and on your holiday table.
Simply defined, veal is a young male cow. Tradition calls for it to be processed at 6 months old or less—while still on a milk-based diet. This keeps the meat pale in color and remarkably mild-flavored. You're probably familiar with veal chops and scaloppine. It's time to up the ante with a whole rack—the veal equivalent of a prime rib.
Veal acquired something of a bad rap in decades gone by, when reports of cruel farming practices began to circulate in the press. Veal sales in the U.S. plummeted overnight. It's still difficult to find veal at most supermarkets.
D'Artagnan Meat Purveyor
Enter the premier meat purveyor, D'Artagnan, which sources its veal from small farms in the southwest of France. Founded by Ariane Daguin in 1985 (and named for one of Alexandre Dumas' swashbuckling musketeers), D'Artagnan goes to extraordinary lengths to ensure that its veal is expertly and humanely raised.
For starters, D'Artagnan uses only Charolais and Limousin breed cattle from small farms in Ariane's native southwestern France. The calves live in open "group housing," untethered and never caged or penned. They're raised on a pure milk-based diet without the grain finish common elsewhere.
What results is meat with a pale pink color that turns almost pearly when cooked. The meat is sweet, mild, and delicate. It's also extremely lean—a boon if you're watching your fat intake. Just take care not to overcook it.
D'Artagnan's rack of veal offers the same eye-popping presentation of a prime rib, but with a lot more subtlety and finesse.
Ever a fan of the sizzling crust and succulent meat produced by spit-roasting, I cooked my rack of veal on a charcoal-burning rotisserie. The indirect heat cooks the veal while keeping it tender.
The slow spin of the turnspit bastes the meat inside and out, keeping it moist. By adding hardwood to the coals, you can lay on a delicate smoke flavor—always appreciated in the Raichlen household.
So if you're looking for a new holiday showstopper, this rotisserie rack of veal with rosemary and lemon may well be your ticket.
Rosemary Lemon Rack of Veal Recipe
Serves: 6
Method: Spit-roasting/rotisserie
You'll also need: butcher's string; wood chunks or chips for smoking (I like cherry), thee latter soaked in water to cover, then drained. Daniel—link to butcher string in our store (add it if necessary) and to my Barbecue Essentials cherry chunks.
Ingredients
1 rack of veal (5 to 6 pounds)
Extra virgin olive oil for basting
Coarse sea salt and freshly ground black pepper
1 bunch fresh rosemary, torn into sprigs
1 small Meyer or regular lemon, thinly sliced and seeded
Recipe Steps
1. French the rack of veal, that is, cut the meat away from the top 1-1/2 inches of the ribs, scraping the bones clean with a paring knife. Do you absolutely need to French the ribs? No, but this will give your rack the professional appearance so prized by the French. (Legend has it that ribs were "frenched" so the gentry could pick up the bones without soiling their fingers.)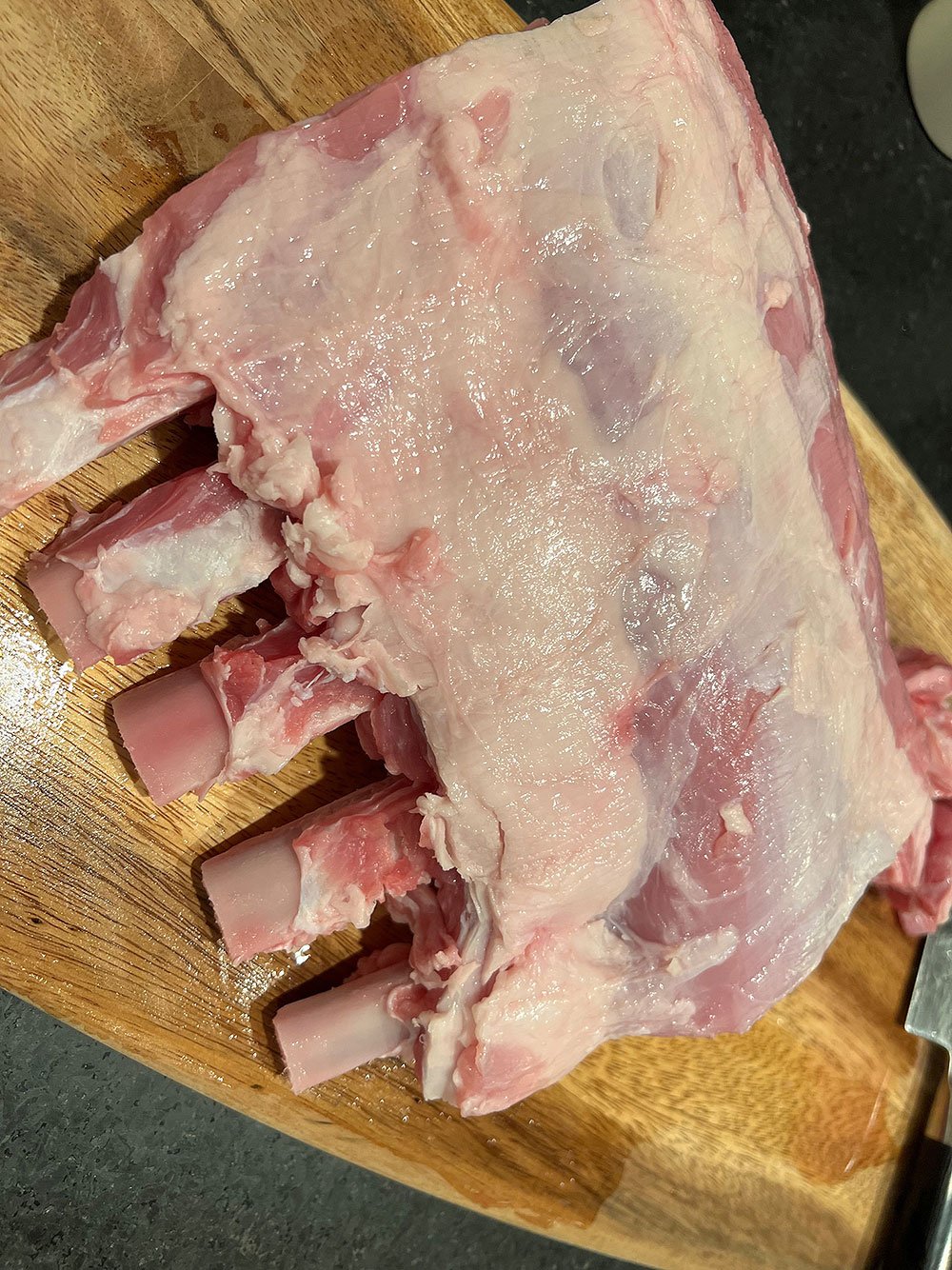 2. Using butcher's string, truss the rack, tightly tying one loop of string between each rib, and one long string around the circumference of the roast, as illustrated in the photo.
3. Brush the rack of veal all over with olive oil and season generously all over with salt and pepper. Tuck rosemary sprigs and lemon slices under the trussing strings.
4. Meanwhile, set up your grill for spit-roasting. Heat to medium-high (400 degrees).
5. Skewer the rack of veal from end to end on the rotisserie spit and secure it with the prongs. Place the veal on the grill and add a wood chunk or a handful of wood chips to the coals. If using a gas grill, place in your grill's smoker box.
6. Spit-roast the veal until sizzling and browned on the outside and cooked to taste, 1 to 1-1/4 hours. Baste it two or three times with olive oil as the veal cooks: use a rosemary sprig as your basting brush. I like my veal still with a blush of pink—with an internal temperature of 150 degrees. My wife prefers medium—160 degrees.
7. Transfer the rack of veal to a wire rack over a sheet pan. Loosely tent with foil and let rest for 5 to 10 minutes, then carve into chops and serve, with any drippings spooned over the meat.
Head over to our BBQ500 club on Facebook. We have an amazing community!
Also, sign up for our Up in Smoke newsletter so you don't miss any blogs and receive some special offers! PLUS get Raichlen's Burgers! PDF for free!
Follow Steven on Facebook, Twitter, Reddit, Instagram, and TikTok!