By Steve Nestor
Fact: Americans eat more than 4.5 billion tacos a year. (Do you do your part?)
Appropriately, the now-familiar word "taco" originally referred to the rolled paper and gunpowder charges 18th century Mexican miners used to blast silver out of rock. Because one of the world's most beloved tacos—tacos al pastor, aka "shepherd's tacos"—are nothing if not explosively flavored!
Nearly every tacos al pastor addict (and there are a lot of us) remembers their "first time." Maybe it was at a taco stand on the Baja Peninsula, or a furtive visit to a mind-blowing "let's keep this to ourselves" food truck in Columbus, Ohio. Bottom line? Those top-heavy stacks of chile- and adobo-marinated pork slabs, piled high on a tall vertical spit and crowned with a whole pineapple and an onion, are da bomb.
In a worthy establishment, the taquero (taco master) uses deft downward swipes of a sharp knife to carve delectable shreds of fire-crisped meat off the spit, called a trompo for its resemblance to a spinning top.
But until recently, tacos al pastor have been nearly impossible to replicate at home. Enter Trompo King and their game-changing device for taco lovers who grill. They sent us one of their units, which comes with a rimmed juice-catching bottom rack and two spits—one 12 inches high and one 7 inches high, depending on your needs and the distance between your grill grate and lid. (You can also use the Trompo King to make shawarma, gyros, or even pork loin or a beef roast.)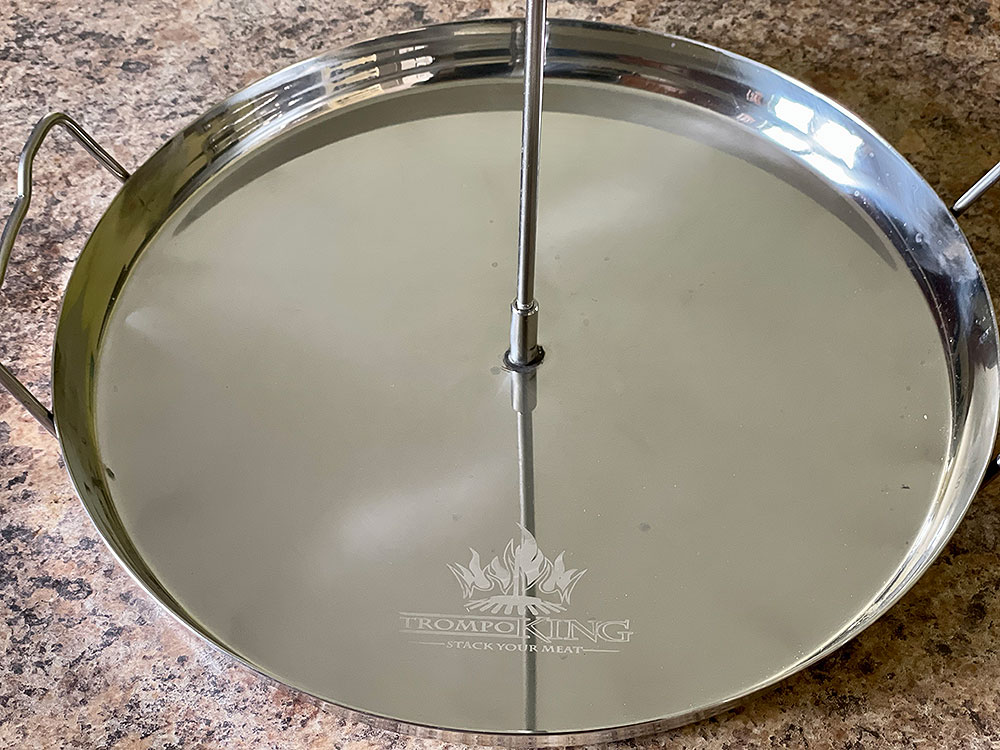 But making swoon-worthy tacos al pastor was my first priority.
Lebanese immigrants first brought tacos al pastor to Mexico in the early 20th century by taking the idea of shawarma and incorporating local Mexican ingredients.
My first attempt at tacos al pastor was traditional. I created a rojo (red) chili sauce and incorporated the achiote paste to marinade sliced pork shoulder. I hung a trompo in the pit barrel cooker thinking the heat would circulate around the hanging meat like a vertical rotisserie. The pork was juicy, but my wife and I did not love the minerally taste of the achiote paste.
I wanted to give pork tacos al pastor another try, but Steven Raichlen challenged me to try it with chicken. I am always up for an experiment on the grill. Here is how it all came together.
Tacos Al Pastor with Chicken and Green Sauce
I remember Steven telling me about chicken tacos flavored with lime he enjoyed recently while in Mexico. So, I thought that would be terrific way to start building my marinade. I might offend purists with my interpretation of tacos al pastor, but do not judge it until you try it.
As I said, my wife and I did not enjoy the taste of the achiote paste in the marinade, so instead of a rojo "red" chili sauce, I made a salsa verde or "green" sauce for the chicken. The marinade consisted of tomatillos, poblanos, lime zest and juice, spices, cilantro, onion, and jalapeños. Click here for the full recipe.
The chicken and sliced onions marinaded in the verde sauce overnight. A spicy but balanced flavor was my goal.
The Trompo King was set up with the long (12-inch) skewer and the wire rack in the bottom and I started stacking the chicken, onion, and sliced pineapple. One large piece of pineapple was placed on top of the stack to baste the chicken while cooking.
The Trompo King was placed in a Big Green Egg XL (BGE) that was preheated to 400 degrees (medium-high). Two wood chunks were placed in the BGE to create wood smoke. I anticipated the chicken would cook quickly since I was using breasts and take about an hour or so. I was wrong; it took two and half hours to reach an internal temperature of 165 degrees.
The outside of the chicken was crusty and charred in spots. I was worried the chicken may have become dry during the cooking process. Luckily, I was wrong again. The chicken was juicy and flavorful. The chicken also had a nice smoky aroma. The crispy texture of the outside contrasted with the tender and juicy chicken on the inside. The pineapple helped to keep the chicken moist. The onion still had some texture, which surprised me.
I sliced the chicken, onion, and pineapple directly off the skewer and placed it all in a grill-warmed tortilla. I topped each taco with grilled pineapple-mango salsa and garnished with a lime wedge and fresh cilantro.
The lime juice, tomatillos, and seasonings created a freshness to the chicken. The poblano and jalapeño peppers provided spice without being overpowering. The tender and juicy chicken, the onion, and pineapple-mango rolled up in the grilled taco created the perfect bite.
Taking a traditional dish like tacos al pastor and making it my own felt intimidating, but the results made it worth it. I would encourage all of you to run your own tasty experiments.
How will you put a twist on tacos al pastor? Let us know on Facebook, Twitter, Reddit, or Instagram!