By Barbecuebible.com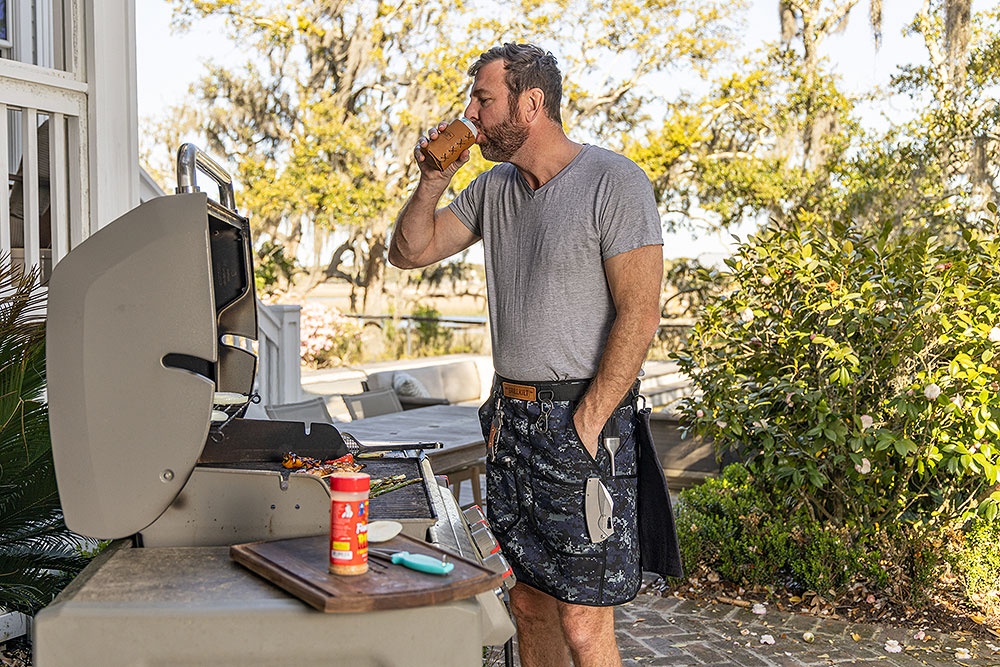 After a two-year hiatus, it appears from our emails and social media channels that many Americans are looking forward to once again inviting more than six people to their Fourth of July cook-outs. Cooking for a crowd can be a bit intimidating, which is why we felt this is a perfect time to share our best tips for staging an epic barbecue, one you can enjoy along with your guests.
Keep it Simple
The most popular grilled foods for the Fourth of July are burgers, hot dogs, steak, and chicken, according to a survey conducted by the Hearth and Patio Barbecue Association.
We like to get the party started with a cool libation, such as chilled and grilled sangria or the usual refreshments—beer, wine, soft drinks, and water. (Kiddie pools filled with ice make great impromptu coolers.) If anyone offers to bring something, suggest an appetizer or dessert, preferably dishes that travel well and don't require refrigeration.
Grill the burgers and brats in batches, keeping them warm in large aluminum foil disposable pans. You can add a bit of hot beef broth to the burgers to keep them moist, and immerse the brats in warm beer and onions. (See Brats in a Hot Tub. Present an interesting array of condiments for guests to choose from. (Note: Plant-based versions of burgers and brats will be appreciated by any vegans or vegetarians on your guest list.)
Select side dishes that can be prepared the day before the cook-out, like one of our new favorites, Caveman Coleslaw (dress salads shortly before serving to keep them from getting watery), barbecued beans, mac 'n' cheese, or easy pasta salads. Side dishes can also be assigned to guests; it invests them in the success of the party.
Be Organized
As successful caterers will tell you, it's critically important to be organized when feeding a crowd. As the designated pit master, you'll want everything at the ready. Multiple runs to the kitchen to grab a forgotten item don't make a good impression. We've recently discovered a helpful barbecue accessory called a GrillKilt.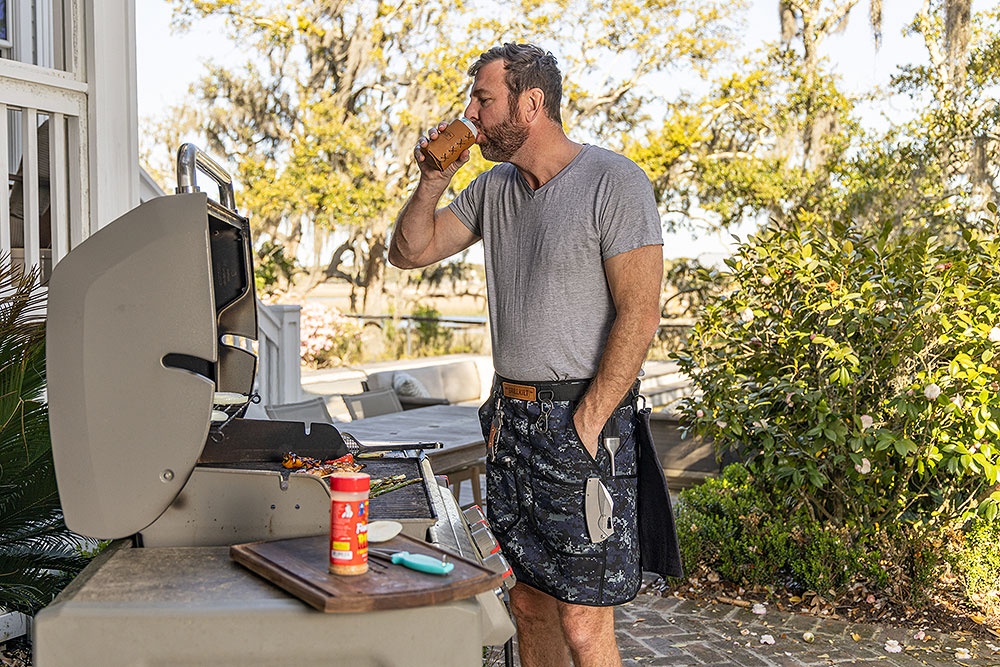 It's a manly-looking apron, a wearable workstation/toolkit with room for everything from critical grilling paraphrenalia to rubs, remote temperature probes, hand towels, and maybe a cold brew. Available in 12 colors, its designers included 10 pockets in varying sizes, 5 D-rings, and 2 carabiners. (Charleston Magazine called it, "The accessory you didn't know you needed this summer.)
If your grill does not have an attached workspace, set up a table—even a sturdy card table or picnic table will work—and load it with paper towels, a roll of heavy-duty foil, grill gloves, food-handling gloves, small bowls of coarse salt and pepper, vegetable oil, and long-handled tongs and spatulas. Don't forget a good grill brush, either, as you may need to clean and oil the grill grate more than once during the course of the party. A fully-charged fire extinguisher positioned near your cooking area will make you look like a pro.
You should also set up a station for your guests' comfort, one that has a small first aid kit, moist wipes, insect repellent, sunscreen, etc.
Be Realistic
How many people do you think you can comfortably accommodate? Consider parking, seating, restroom facilities, refrigerator space, and of course, grill space. We once received an email from a man who'd been nominated to cook for a large family wedding, even though he only had a standard kettle grill. It seemed as if he expected a "loaves and fishes" situation, meaning his grill grate would miraculously accommodate his needs. Usually doesn't happen that way. So…realistically assess what you have and what you'll need to make the party a success. A little planning goes a long way.
Perhaps you'll need to borrow or rent additional grills, tables, or coolers. Restaurant supply houses are good sources of inexpensive party goods like large disposable bowls, clam-shell boxes for leftovers, paper products, etc. Maybe friends or neighbors can lend you needed equipment, refrigerator or freezer space, manpower, or even entertainment options like outdoor TVs, cornhole, etc.
In any case, have a safe and glorious Fourth! From all of us at Barbecuebible.com.
Do you like grilling for crowds? Let us know on Facebook, Twitter, Reddit, or Instagram!