By Steve Nestor
Gardens come in all shapes and sizes. Large gardens can be tilled in your yard, if you have one. (Some communities sponsor neighborhood gardens where plots can be rented for the growing season for a modest cost.) Medium-sized gardens can be planted in raised garden boxes. Smaller gardens can be planted using planter pots. I feel the size of the garden is not as important as having a way to grow fresh veggies, herbs, or fruit. I love creating a recipe or a meal based on what is fresh in the garden!
During the summer, I try to make fresh veggies and herbs the star, or at least the co-star, of a meal. Fresh from the garden ingredients can become an appetizer, a main dish, a side dish, and even a dessert. If you are reading this, you are probably a fan of grilling, smoking, or roasting something in the meat or fish family. I will share my favorite ways to incorporate my garden into meals and possibly motivate you to grilling vegetables.
Grilling Vegetables
Eating raw veggies, herbs, and fruits straight from the garden is great, but I always remember "Raichlen's Rule"—if something tastes good baked, fried, sautéed, or boiled, it is better when grilled or smoked.
Steven's Wood-Grilled Blistered Tomatoes and Ricotta Bruschetta is a great way to start a meal. Fresh cherry tomatoes and herbs are roasted over a wood fire and served with fresh ricotta on grilled bread. I like to crush fire-roasted tomatoes to create a rustic pizza sauce.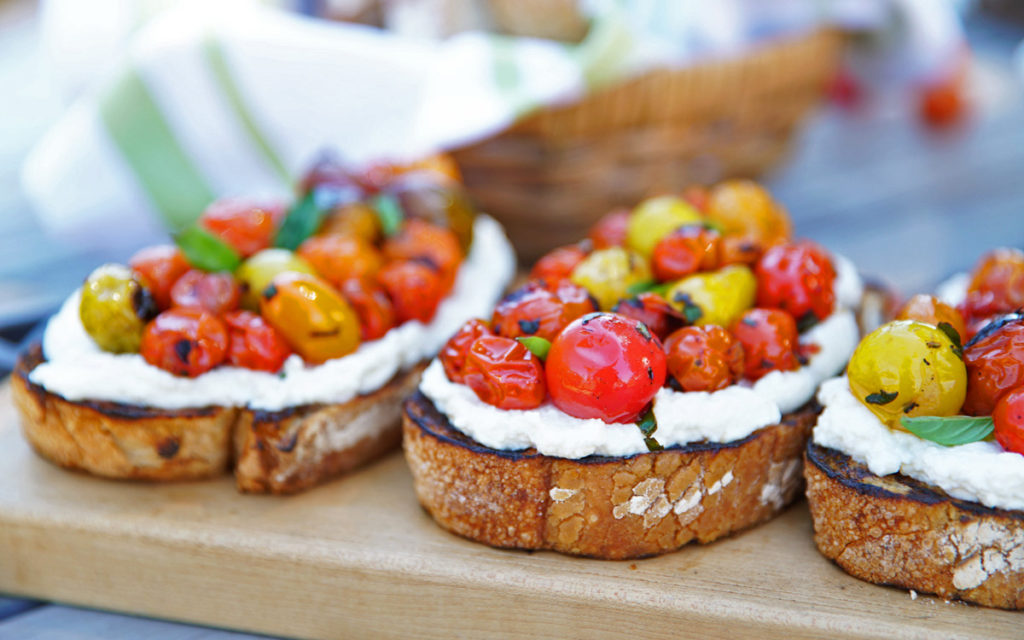 Another favorite is a hot and cold salad. It can be a starter or a main course. It is quick and easy to make and perfect when you want to limit your time standing over a hot grill. I season fresh romaine lettuce with olive oil and salt and pepper and grill along with red onion and avocado. I serve the grilled lettuce with cool tomatoes, blue cheese dressing, and bacon crumbles for a twist on a wedge salad.
Zucchini and summer squash grow wild in my garden, so I must get creative with how to cook them. I learned a cool way to grill zucchini while testing recipes for Steven's book, "How to Grill Vegetables." It involves weaving thin zucchini slices onto a skewer. The skewered zucchini is then grilled and basted with herb butter. Zucchini "Burnt Ends" with Herb Butter and Lemon. I also like to grill zucchini and summer squash in a grill basket and then toss them with fresh basil and parsley, toasted pine nuts, and a squeeze of grilled lemon. I make a hummus-like zucchini dip that starts by grilling zucchini and onion slices.
I find the possibilities of grilling vegetables like peppers and onions are endless. One of my favorites is to thinly slice peppers and onions and grill them in a basket [PLS. ADD LINK, DANIEL]. The grilled onions and peppers can be served over a steak, used as a pizza topping, or added to a grilled sausage sandwich. Just like I get outside of Fenway Park, but better, since it's homemade.
Jalapeño peppers not only keep the rabbits out of my garden, but have many culinary uses. Fresh jalapeños from the garden will have more heat than the store-bought ones. One of the first things I cooked at BBQU was bacon-wrapped, crab-stuffed jalapeño poppers. I enjoy adding the spice-grilled jalapeños to fresh salsa and gazpacho.
Fresh corn might be my favorite veggie to grill. I like to season it with olive oil, kosher salt, and freshly cracked pepper and place it "naked" on the grill. I then baste it with a fresh herb and melted butter baste. Grilled corn can be cut off the cob and added to salsa, relishes, chowder, cornbread, or a salad.
One of my wife's favorite ways to prepare carrots is to smoke-roast them and finish them with fresh sage brown butter sauce. This year, I'm growing beets for the first time. I can't wait to use beets straight from the garden to make my Smoked beet Salad with Smoky Raisin Vinaigrette.
Grilled Fruit
If veggies aren't your thing, maybe it's fresh fruit. I make a spicy peach barbecue sauce that starts with grilled peaches and jalapeños. Grilled fruit such as pineapple or stone fruits served with ice cream or smoked whipped cream and garnished with fresh mint makes a great dessert. Fresh fruit and herbs can even be used to make a cocktail. Steven's Grilled Sangria is one of my go-to's for summer cookouts.
My wife and I love to use fresh herbs when cooking, so we freeze some for year-round use. I find fresh herbs can elevate the flavor of any dish. The possibilities and combinations of herbs are only limited by your imagination. Once I was inspired to create a cilantro, lime, garlic, and shrimp dish just because we had so much cilantro. I find a garden-fresh chimichurri is a delicious complement to a piece of steak or swordfish. I make pesto from my fresh herbs to use as a pizza sauce or to marinate chicken.
Later in the season, I have access to squash and pumpkin. I quarter butternut squash and smoke-roast it for a soup my wife makes in the fall. If you like squash, be sure to try Steven's Butternut Squash with Thai Sweet Chili Teriyaki recipe. I smoke-roast a sugar pie pumpkin to enhance the flavor of my pumpkin risotto. The pumpkin risotto is the perfect match for a spice-rubbed and smoke-roasted pork tenderloin.
I feel that the possibilities of grilling vegetables, fruits, and herbs are endless. I hope my examples inspire you to stop by a local farmer's market or even plant your own garden. I encourage you to cook with what is in season, be creative, and have fun experimenting with fresh from the garden ingredients!
What are your favorite vegetables to grill? Let us know on Facebook, Twitter, Reddit, or Instagram!